Meals of Hope's Proven Business Model
Meals of Hope Meal Packing Franchise
In the U.S. alone, more than 34 million people, including 12 million children, suffer from food insecurity. For a problem so vast and widespread, there will be no silver bullet cure. Instead, it will take innovative and outside-the-box solutions to combat one of the greatest crises of our time. In steps Meals of Hope and their proven business model.
Meals of Hope was founded in 2007 as a nonprofit with a mission to help end the hunger crisis and help communities become food secure. Through organizing meal-packing events, Meals of Hope instantly made a huge impact, packing more than 135,000 meals with the help of more than 500 volunteers in just a few hours during the very first event. The concept became so successful it was decided in 2022 to convert to a franchise system, with twofold benefits. One, franchising allows more Meals of Hope locations to open in communities all over the U.S., deepening its impact in fighting the hunger crisis. And two, it allows more philanthropic-minded entrepreneurs a path toward business ownership in a lucrative segment, while also giving back to their community.
"We've done remarkable things," Steve Popper, CEO and president, says. "We've packed more than 80 million meals. We've started 15 food pantries that feed more than 10,000 people a week (about 4,000 families). And now, we decided that the best way to expand our ability to fight the hunger crisis is to franchise our model and expand across the country. We're so excited to be in a position to help entrepreneurs own businesses that have tremendous profit-potential, while also making such a tremendous difference in people's lives."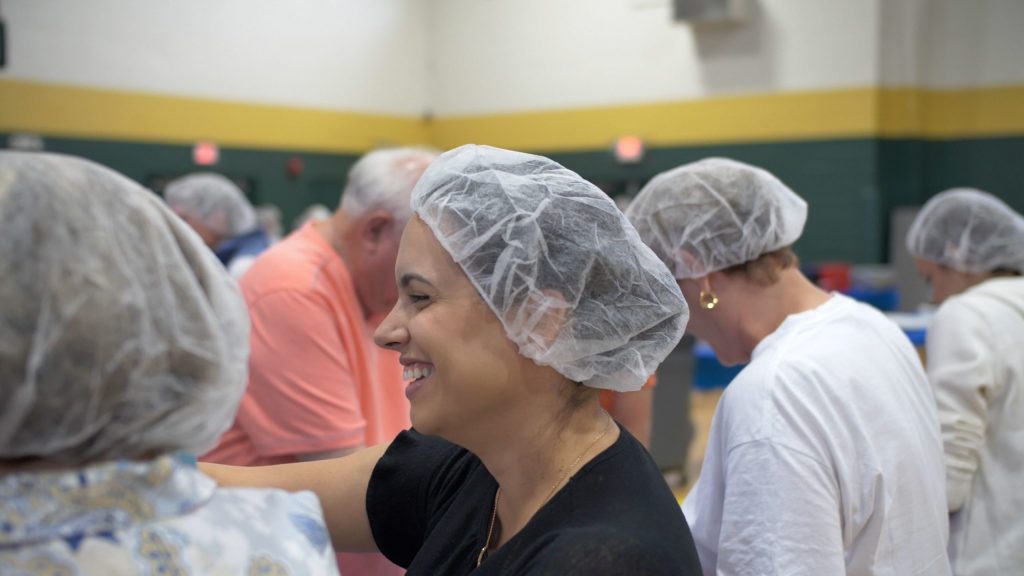 Meals of Hope's Proven Business Model
Despite all the various efforts and organizations dedicated to fighting the hunger crisis in America, there's nothing quite like Meals of Hope and its unique and proven business model. Franchise owners are tasked with building relationships in their community to find sponsors for meal-packing events. That can include any number of organizations, such as businesses, universities, nonprofits, and churches. Then, once a sponsor is on board, they put the word out in their networks, calling for volunteers to help prepare the meals, as well as find the perfect spot for their event.
From there, Meals of Hope takes over. Our teams make sure events run smoothly, and every volunteer has a great time, while helping out those most in need. At the end of the day, a local food bank shows up to take the meals and distribute them around the community. With little overhead and recurring costs, the Meals of Hope business model is designed to keep more money in your pocket to help your franchise grow. Franchise owners are paid a percentage for every meal packed at an event, and with events packing anywhere from 10,000 to 1 million meals, the profit potential is massive!
Top Tier Franchise Support
A franchise system is only as good as its franchisees, and that's why Meals of Hope has invested incredible time and resources into its industry-leading training and support program. From day one, franchise owners are coached by the experts on everything and anything, from marketing, professional development, as well as ongoing support and guidance. We take pride in saying our franchise owners are never alone – if you ever need help on any aspect of the Meals of Hope, we're there 24/7 for the life of the franchisee to make sure you feel supported.
"We don't call our owners franchisees, we call them Packing Partners, because they are truly partners of Meals of Hope," Popper says. "They are a part of a family that's committed to doing whatever we can to help them grow and thrive. Nothing about our end is done with financial gain in mind. Even our franchise fee goes to support the food pantries that feed 1,000 people a week. The more successful our franchise owners are, the more people we all get to help together."
How to Generate Repeat Business with Meals of Hope
As with any business, repeat customers are a critical part of increasing profitability and growing your business. Not only are repeat customers a reliable and steady source of revenues, they also hold massive marketing potential. Simply put, repeat customers are far more likely to be an advocate of your service and promote your business to others in the community. That's why Meals of Hope has placed a huge emphasis on building and retaining repeat customers.
It all starts with delivering an unforgettable, fun experience at meal-packing events. Franchise owners build strong relationships with community groups, which ensures future meal-packing events. Time and again, sponsors and volunteers have such a memorable and impactful experience at our events that they make it a regular tradition for their business, charity, or other community group. In Los Alamos, New Mexico, for instance, the Rotary Club, along with Kiwanis and Lions Clubs, have held packing events for years to help provide meals to an area the U.S. Department of Agriculture calls a "food desert" – a large area without access to affordable, healthy foods. Meals of Hope has also helped for years to facilitate large-scale meal-packing events across the U.S. on the "9/11 National Day of Service." And in Florida, the Bay View Association Recreation team is now eight years running in its partnership with Meals of Hope.
"There's no shortage of organizations that want to help," says Popper. "Many businesses today have developed a corporate social responsibility strategy, and they are always looking for ways to give back. Houses of worship and faith-based charities are always looking for ways to live their values. We've worked with every type of organization, and the results are always phenomenal. Everyone who participates leaves feeling great. From our franchise owners, to their sponsors, to the volunteers who show up, it's a win-win-win for all involved."
Learn More about Meals of Hope
Meals of Hope is an incredible opportunity for entrepreneurs who want to help make their communities stronger by becoming food secure, while operating a business model that can have an enormous impact. To learn more, visit our research pages here or make a request for more information today!