How Big is the Demand?
Meals of Hope franchise owners are helping communities become more food secure one event at a time
According to the USDA, there are more than 38 million people, including 12 million children, who are food insecure right now. In the wake of the global pandemic, the expiration of pandemic-era government subsidies, and rising inflation, these numbers are only getting worse. According to the Food Research & Action Center, food insecurity is up 9% from where it was in 2019. To put that into perspective, one out of every eight people in America faces food insecurity.
Food insecurity is a far more serious measure of need than hunger. According to Hunger and Health, "The U.S. Department of Agriculture (USDA) defines food insecurity as a lack of consistent access to enough food for an active, healthy life."
The fact that so many people are facing this issue in America is startling and troubling – and food insecurity isn't limited to one area. In the United States, food insecurity impacts every corner of our country. From wealthy suburbs to inner cities, from New York City to California, and everywhere in between, the crisis is reaching devastating levels.
Meeting this demand is exactly why Meals of Hope was founded.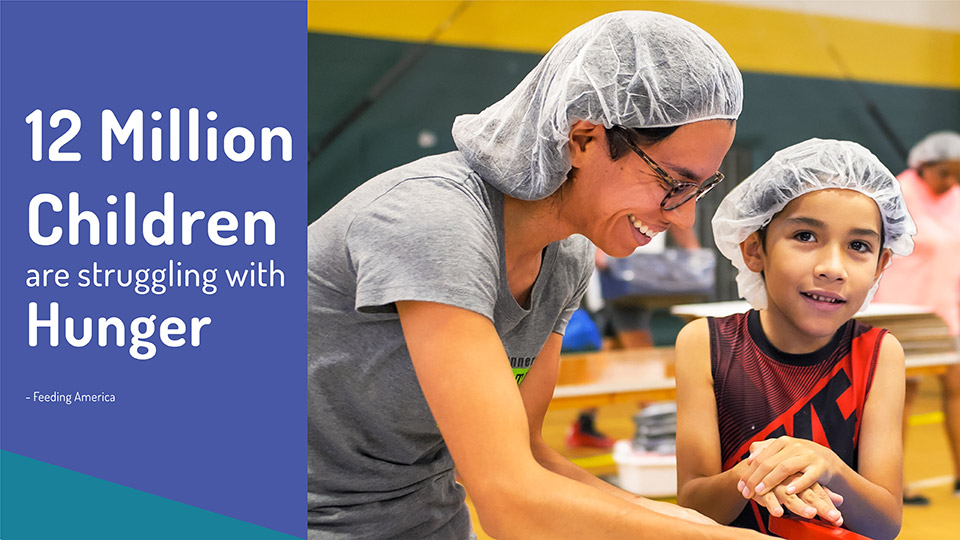 How do we fight food insecurity?
Meals of Hope is a meal packing franchise entirely focused on combating the food insecurity crisis. Our franchise owners organize meal packing events that are capable of delivering anywhere from 10,000 to more than 1 million meals to the people who need it most.
Driven by a passion to make a difference, our franchise owners build relationships with like-minded organizations to host the events. We've worked with houses of worship, colleges and universities, nonprofit organizations, corporations, small businesses, and more to hold events over the last 15 years. And in that time, we've shipped over 80 million meals.
"There's no shortage of organizations that want to help," says Steve Popper, President and CEO. "Many businesses today have developed a corporate social responsibility strategy, and they are always looking for ways to give back. Houses of worship and faith-based charities are always looking for ways to live their values. We've worked with every type of organization, and the results are always phenomenal. Everyone who participates leaves feeling great. From our franchise owners, to their sponsors, to the volunteers who show up, it's a win-win-win for all involved."
We have high standards for our franchise owners
Because Meals of Hope only has 64 territories available, we're going to be extremely selective in who we choose to bring into our franchise family.
Meals of Hope is looking for entrepreneurs who are driven by more than money. This is an executive-level business where our franchise owners are spending the majority of their time networking and building relationships in order to find sponsors to hold their events. They have to be more than passionate – they have to be the hunger experts in their community.
This level of passion for the cause is not something that we will waver on. Because this franchise family will always be small, every one of our franchise owners has to be extraordinary.
"We're looking for people who want to do good and make money, which is very different from making money and doing good," Steve says. "We know this is a business, but if it's all about the money, this is not going to be a good fit. This is about service, giving back, and getting meals to people who desperately need them. This is far bigger than making money." But Meals of Hope has built a franchise structure, which allows our Packing Partners to do good while building a strong business and earning a good living.
Own a Meals of Hope franchise
If you're ready to learn more about how you can make a living while making a difference in your community, fill out an inquiry form and start a conversation with us. We look forward to speaking with you!