Bay View Meal Packing Event Shows Repeat Business
Meals of Hope and The Bay View Association Enjoy 8 Years Together
For the past 8 years, Meals of Hope has partnered with Bay View Association Recreation Program with one goal in mind: to end hunger in Emmet County, Michigan. In just two hours, volunteers are able to pack 15,856 meals for those most in need in the community. Meals of Hope supplies the ingredients, while Bay View Association brings together different groups, organizes volunteers, and secures the site of the meal packing event. Then, after volunteers from all walks of life come together to help feed the most vulnerable people in their community, the meals are picked up by a local food bank and distributed.
"Bay View is part of the local community, and it is part of our mission to reach out to connect and support the greater Petoskey community. Meals of Hope is one way we give back locally to our northern Michigan community," said Barbara Pfeil, executive director of Bay View Association.
Meals of Hope's partnership is a shining example of how our franchisees can collaborate with established community groups and ensure repeat meal-packing events, and therefore business. Meals of Hope enables community-oriented associations and organizers to give back to their community in a meaningful way. For our franchisees, this win-win partnership is why Meals of Hope has seen consistent repeat business in the franchise model.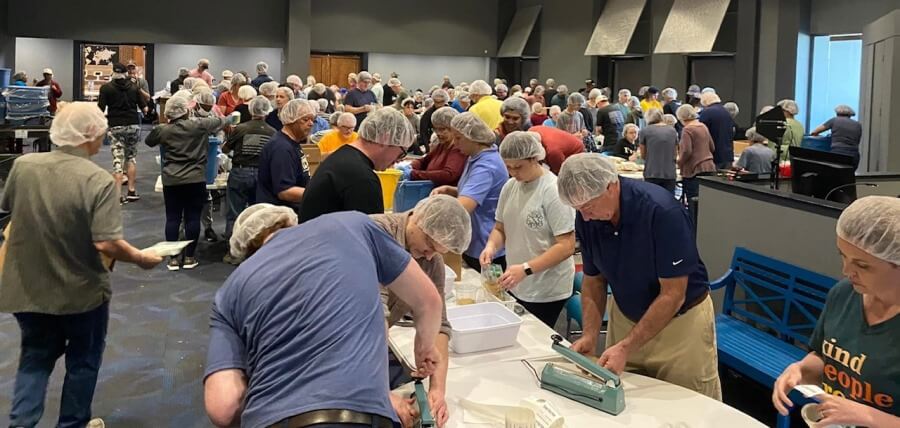 How do Meals of Hope Franchisees get Repeat Business?
Meals of Hope is all about building relationships, and our franchise owners are experts at forging meaningful connections with community groups, such as charities, businesses, universities, and places of worship, to name a few. Once these groups realize how easy Meals of Hope makes giving back to their community, time and again, we see a one-time event turn into an annual occurrence. For our franchisees, that means repeat business.
"We've discovered that there's no shortage of organizations, charities, businesses, houses of worship, and colleges and universities who want to host an event," says Steve Popper, President and CEO of Meals of Hope. "When they hear the impact that one event can have, it becomes a commonsense decision to host it. The more events our franchise owners can organize, the more successful they become in business – and more importantly, the more people they're able to help."
The more events franchisees hold, the more they can drive profits. Meals of Hope franchise owners are paid a percentage for every meal packed at an event. With events preparing anywhere from 10,000 to 1 million meals, the profit potential is huge. Although this business provides a lucrative career opportunity for aspiring entrepreneurs, we never lose sight of the fact that our mission is to end hunger and make a difference.
Own A Meals of Hope Franchise Today!
If you love hosting and planning events, networking in your community, and building relationships, while at the same time, making a huge impact for some of the most vulnerable people in your community, then the Meals of Hope franchise opportunity may be a perfect fit for you. Meals of Hope offers a unique and straightforward business model that is in huge demand as hunger continues to be one of the worst crises of our time.
If you want to help fight hunger and realize your dreams of small business ownership, visit our research pages here or request more information by filling out our form here.