Young Volunteers Love Meal Packing Events
Young Volunteers Love Meals of Hope
When you sponsor a meal-packing event with Meals of Hope, you know you are going to have a rewarding experience that is fun, builds community, and gives back to some of the most vulnerable people in need. That's why a meal-packing event is the perfect way to give back, while also having a great time with friends, family, and co-workers. Over the years, the Meals of Hope team has perfected what it takes to make sure your event is a fun, safe, and memorable experience for everyone involved!
All ages have shown their love of Meals of Hope meal packing events. Recently, students, staff and community members got together in Louisa County, Virginia to pack more than 5,000 meals in just two hours! What's more, each box also contained a positive, hand-drawn message from the students. According to a report in NBC12 News, the meal packing event was part of the county's school district's "learning days," which are days during the school year when students participate in community service projects. And they're not done yet – according to the report, the school district has plans to pack another 5,000 meals!
"This is a business that's all about building relationships," says Meals of Hope CEO and President Steve Popper. "Our franchise owners are going to be spending their time networking in their communities and forming relationships that are based on a shared commitment to give back. We've discovered that there's no shortage of organizations, charities, businesses, houses of worship, and colleges and universities who want to host an event. When they hear the impact that one event can have, it becomes a commonsense decision to host it. The more events our franchise owners can organize, the more successful they become in business – and more importantly, the more people they're able to help."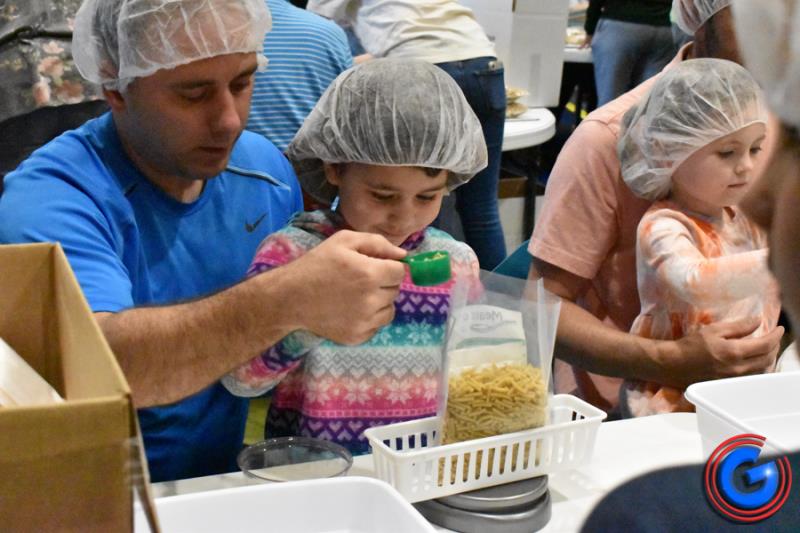 Serving the Hungry with Meals Packing Events
For Meals of Hope franchise owners, the number one goal is to find sponsors for meal-packing events, which secures business for your franchise and helps do good in your community. Franchise owners spend their time building relationships with organizations, such as charities, businesses, universities and colleges, school districts, houses of worship – all to get your community interested in sponsoring a meal-packing event. Then, sponsors secure volunteers and a venue, and Meals of Hope takes it from there. We supply the ingredients and coordinate with a local food bank to distribute the meals, once packed. During the event, franchise owners make sure everything is running smoothly, and most importantly, everyone is having a blast while they help people in their community suffering from food insecurity.
Meals of Hope's business model is as straightforward as it gets, but that doesn't mean we skimp on training and support. In fact, our franchise owners receive world-class training and support on everything and anything from marketing, professional development, and ongoing mentoring and coaching. By the end of our training and support program, you'll know how to win customers, run events, market effectively, and become the leader you want to be.
"We don't call our owners franchisees, we call them Packing Partners, because they are truly partners of Meals of Hope," Popper says. "They are a part of a family that's committed to doing whatever we can to help them grow and thrive. Nothing about our end is done with financial gain in mind. Even our franchise fee goes to support our food pantries that feed 4,000 people a week. The more successful our franchise owners are, the more people we all get to help together."
Learn More about Meals of Hope Franchise
Meals of Hope is quickly expanding across the U.S., as entrepreneurs realize this is an incredibly unique business model that gives back to communities while providing a lucrative career for franchisees. To learn more, visit our research pages here or make a request for more information today!