What Is Franchise Support And Why Does It Matter?
What is Franchise Support?
Want to start your own business, but don't want to take on all the risk that comes with starting from scratch? For so many aspiring entrepreneurs, franchising has become the popular go-to business model for kick starting their careers. However, choosing the right franchise to invest in can be a daunting task, as not all franchise systems are created equal. Indeed, one of the most important factors is franchise support.
So, what exactly is franchise support? Put simply, franchise support is the assistance provided by the franchisor to the franchisee in running their business. Franchise support can take many forms, including training, marketing, site selection, supply chain management, ongoing support, and more. Also of note, the level of support provided by the franchisor can vary widely depending on the franchise system and the needs of the franchisee. Many times, the more efficient a franchise system, the more comprehensive the training and support systems.
Don't underestimate the importance of choosing a franchise system with a solid training and support platform. Franchise support is critical to getting your business up and running more quickly and efficiently, and can help you avoid many of the common pitfalls of starting a new business. This can save time and money, and help start generating revenue sooner. In turn, franchise support can help you grow your business more quickly and effectively. By providing marketing support and other resources, the franchisor can help the franchisee reach more customers and expand their customer base. This can lead to increased revenue and profitability for the franchisee. At the end of the day, the franchisor provides ongoing support and assistance to help the franchisee overcome any obstacles and stay on track.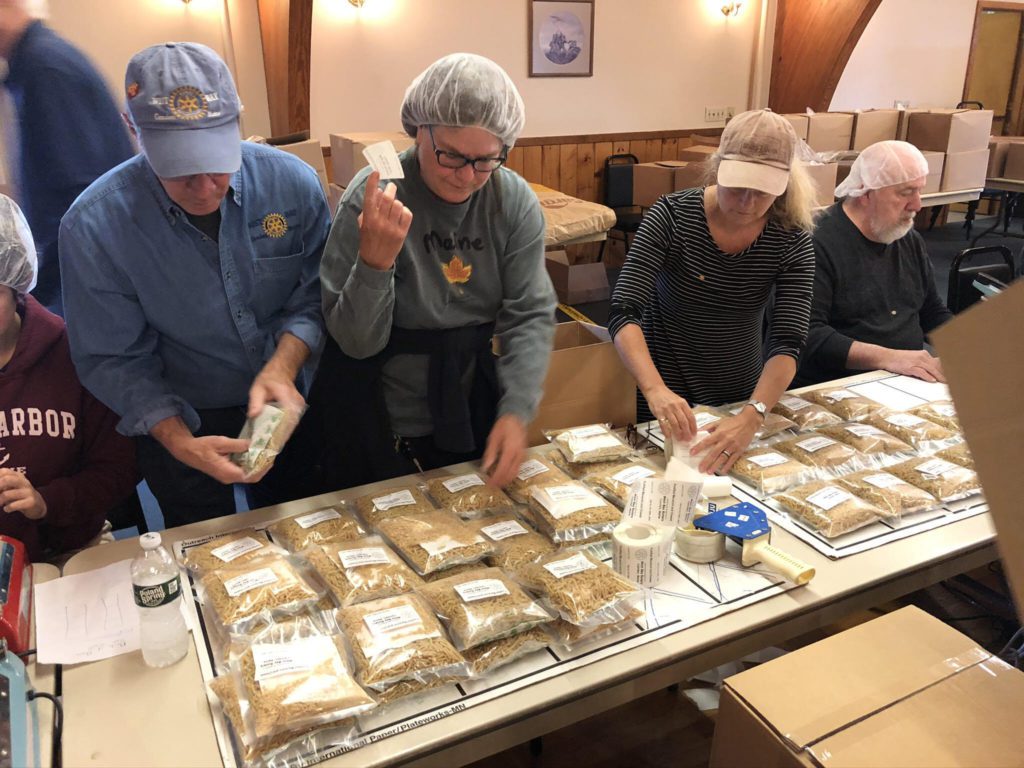 Franchise Support with Meals of Hope
Meals of Hope is a franchise with one goal – to help those suffering from hunger and food insecurity. Meals of Hope hosts meal-packing events that provide nutritional sustenance to millions of people in need. As a franchise system, we take seriously our commitment to helping franchise owners realize their dreams of business ownership, while at the same time making an impact in the communities they serve.
As a result, Meals of Hope provides unparalleled support to their franchisees to ensure their business growth, including assistance with site selection, marketing, and building a customer base. We also provide support with operations, such as supply chain management, inventory management, and financial management. Franchisees have access to a dedicated support team available to help with any questions or concerns that arise.
Comprehensive Training
Training is the name of the game, and what makes franchise owners get off on the right foot.  Meals of Hope franchise provides a comprehensive training program that includes both classroom and on-the-job training to ensure franchisees are fully prepared to operate their Meals of Hope franchise. During the training program, franchisees will learn about the Meals of Hope mission, operations, and how to run their territory.
"We don't call our owners franchisees, we call them Packing Partners, because they are truly partners of Meals of Hope," President and CEO Steve Popper says. "They are a part of a family that's committed to doing whatever we can to help them grow and thrive. Nothing about our end is done with financial gain in mind. Even our franchise fee goes to support the food pantries that feed 4,000 families per week. The more successful our franchise owners are, the more people we all get to help together."
Grow with Meals of Hope
By investing in a Meals of Hope franchise, you not only have the opportunity to own and operate your own business, but to also make a positive impact in your community. Meals of Hope has set out to provide nutritious meals to those in need. To date, we have provided more than 85 million meals to families, children, and seniors suffering from food insecurity over the past 15 plus years.
It's true, the Meals of Hope franchise system provides a unique opportunity to own and operate a business that is both profitable and purpose-driven. On the one hand, Meals of Hope franchises have low start-up costs and the potential for high profit margins. On the other hand, you can make a positive impact in your community while also achieving your business goals.
Right now, Meals of Hope is currently offering limited territories. That's because we want to ensure that each franchisee has the opportunity to maximize their potential for growth. By limiting territories, Meals of Hope is able to provide franchisees with a larger customer base and less competition in their area. If you are interested in investing in a Meals of Hope franchise, it is important to act quickly to secure your territory. The limited territories available are filling up fast, and once they are gone, they may not become available again.
Learn More about Meals of Hope Franchise
Now is the time to take control of your financial future by investing in Meals of Hope. To learn more, visit our research pages here or make a request for more information today!