Meals of Hope Shows Support After Hurricane Ian
Packing Meals for Victims of Hurricane Ian
In September 2022, what started as a tropical wave off the coast of western Africa rapidly intensified into one of the deadliest and most destructive hurricanes to wreak havoc on the state of Florida. On Sept. 28, Hurricane Ian made landfall on the southwest coast of Florida and went on to kill more than 150 people in the U.S. and cause catastrophic damage that is estimated at around $50 billion. A state of emergency was declared as millions of people were left without power, with many forced to evacuate and displaced. Tens of thousands of homes were destroyed or damaged, causing a crisis in communities not seen in decades.
Meals of Hope was one of many organizations on the ground to help pick up the pieces. Meals of Hope helped host a meal-packing event at the 2022 Florida Land Title Association's Annual Convention, where hundreds of volunteers came together to provide meals for Hurricane Ian victims. Meals of Hope also put on an event at the Marco Island Charter Middle School, with the Noontime Rotary Club and Kiwanis Club as sponsors. And that's not all – Meals of Hope was key in coordinating several other packing-events for those impacted by Hurricane Ian, in Immokalee and in Naples. In just two hours, one packing event resulted in 500,000 meals to be distributed in Lee and Collier counties, thanks to more than 1,200 volunteers.
"People are hurting," Stephen Popper, president and CEO, told Wink News. "But at the same time, people have a real generous heart and want to figure out a way that they can also help their neighbors. So, that's what we love about Meals of Hope. And literally, in a two-hour time period, from 9 to 11, we expect to pack over half a million meals with that 1,200 people that will be showing up bright and early wearing Santa hats, and we will have a DJ there. And I guess that's also a nice thing, is that people will be able to give back and at the same time have a good time doing so."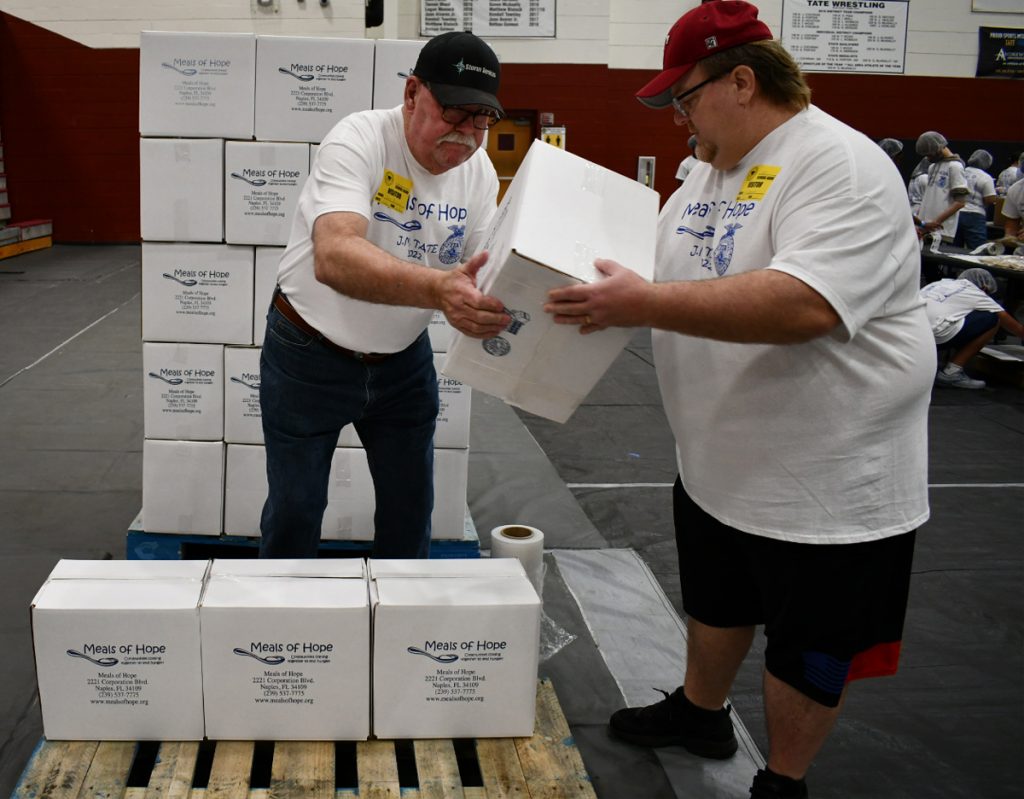 A Franchise Opportunity that Helps in Times of Need
What better way to own a business that makes a difference and helps actual people in need than franchising with Meals of Hope? Entrepreneurs who want to make a great living, but also value giving back to their communities, are a perfect fit for Meals of Hope. Founded as a nonprofit in 2007, Meals of Hope was started to end the hunger crisis and help communities become food secure by organizing meal-packing events. The idea became so popular and so effective, Meals of Hope began franchising in 2022 to help deepen our impact and help more entrepreneurs thrive. Now, millions of people in need have been served a hearty and healthy meal through the efforts of Meals of Hope.
So how's it work? Our franchise owners spend their time building relationships within the community they serve – whether that's at the local university, nonprofits, businesses and churches – to find sponsors for meal-packing events. Then, sponsors put the word out for volunteers and secure a site for the meal-packing event. From there, Meals of Hope works its magic, making sure the event is fun for all while they give back to people in need. Meals of Hope supplies all the ingredients, and once the event is over, a local food bank picks up and distributes the meals.
"This is a business that's all about building relationships," Popper says. "Our franchise owners are going to be spending their time networking in their communities and forming relationships that are based on a shared commitment to give back. We've discovered that there's no shortage of organizations, charities, businesses, houses of worship, and colleges and universities who want to host an event. When they hear the impact that one event can have, it becomes a common sense decision to host it. The more events our franchise owners can organize, the more successful they become in business – and more importantly, the more people they're able to help."
Learn More about Meals of Hope Franchising
A career doesn't have to be all about working 9-5 with one goal: making money. You can both find meaning in work and make a great living! And there's no better investment opportunity than at Meals of Hope, which has helped countless people suffering from food insecurity while helping entrepreneurs realize their dreams of small business ownership. To learn more, visit our research pages here or make a request for more information today!