Invest In A Nonprofit With Meals Of Hope
A Different Approach to Franchising
When it comes to investing in a franchise, most entrepreneurs think of traditional for-profit businesses. However, there's a whole world of opportunities beyond the conventional. Franchising with a nonprofit organization like Meals of Hope offers a unique and rewarding approach that benefits both the franchisee and the communities being served. Let's explore how to invest in a nonprofit franchise, its advantages, and why Meals of Hope stands out as an exceptional choice for entrepreneurs seeking to make a meaningful impact while building a thriving business.
"The idea that we could own a business that provides for us while providing for others really appealed to us," says Aaron Cox, a Meals of Hope franchisee based in Tennessee. "We wanted a business that would offer us flexibility and work/life balance, while also allowing us to build something bigger than ourselves. The need for our events is stronger than ever, and the desire to help is even stronger. We provide the sponsors of our events and the volunteers who attend the opportunity to give back – and in the process we all get to make our community a better place. If you're looking for a business that has its heart in the right place, Meals of Hope is the franchise for you."
What's a Nonprofit?
Before diving into the benefits of franchising with a nonprofit brand, it's essential to understand what a nonprofit organization is. Nonprofits are organizations that operate for a specific social cause, public benefit, or mission, rather than seeking to make a profit for shareholders. They typically focus on addressing social, cultural, environmental, or humanitarian issues. Nonprofits are funded through donations, grants, and fundraising activities, and any surplus revenue is reinvested into furthering their mission.
While some entrepreneurs may overlook nonprofits as viable business opportunities due to their focus on social impact rather than profit generation, franchising with a nonprofit or a for-profit nonprofit offers a unique set of advantages that can be equally rewarding for both the franchisee and the communities they serve.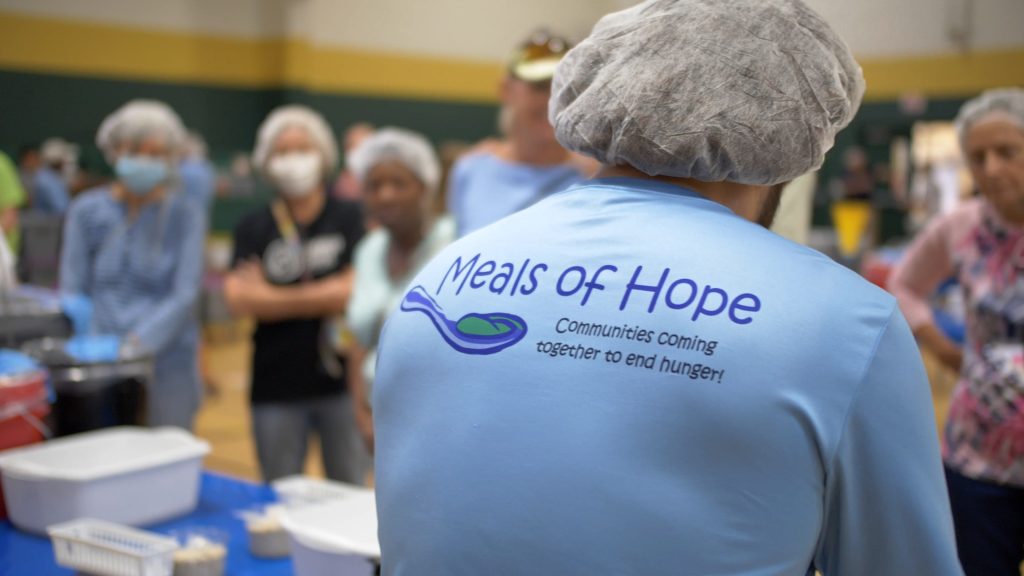 Combining Nonprofit with Franchising Means Everyone Wins
Franchising with Meals of Hope is a win-win scenario for all parties involved. For entrepreneurs, it provides an opportunity to invest in a meaningful venture while still running a sustainable business. Meals of Hope is a for-profit nonprofit franchise, meaning you can operate and grow a profitable business, and all the benefits of franchise ownership, all while contributing needed resources to a worthwhile cause.
As a franchisee with a for-profit nonprofit franchise, entrepreneurs have the satisfaction of knowing that their business is contributing to a greater social cause. They become an integral part of the efforts to address critical issues and create positive change in communities. By aligning their business with a nonprofit's mission, franchisees not only contribute to building a brand, but also become ambassadors for a cause that resonates with customers and employees alike.
Why You Should Choose Meals of Hope
When it comes to investing in a franchise, Meals of Hope is a clear choice. With a proven track record of making a meaningful impact on communities experiencing food insecurity, Meals of Hope has built a reputation for our dedication to alleviating hunger. Our assembly-line method for meal packing events makes the process efficient, effective, and fun for the volunteers participating.
As a Meals of Hope franchisee, you gain access to a well-established and proven model that streamlines your efforts to combat hunger in your community. The brand recognition and support from Meals of Hope ensure that you have the resources and expertise needed to make a substantial difference.
"Now is the time to invest in a Meals of Hope franchise," says Jack Day, Director of Franchise Development. "We only have a certain amount of territories available, which means, once they're gone, they're gone. This is an incredible opportunity for entrepreneurs who are ready to leverage their leadership skills, their relationship building skills, and desire to help make the place where they live more food secure. This is a vitally important issue, and we've proven that this business model can have an enormous impact. We're excited to partner with entrepreneurs who share our commitment to fighting the hunger crisis."
Invest in a Meals of Hope Franchise Today
If you're an entrepreneur looking to make a positive impact and invest in a nonprofit franchise, look no further than Meals of Hope. By franchising with us, you'll not only build a thriving business, but also become part of a movement to end hunger and support those in need.
To learn more about the Meals of Hope franchise opportunity, visit our research pages here for detailed insight into our mission and impact. When you're ready to take the next step, fill out our inquiry form here to start a conversation with our dedicated franchise team. Together, let's create a brighter future for communities experiencing food insecurity, and pave the way for meaningful and fulfilling entrepreneurship.