How Franchisees Help Fundraise For Meal Packing Events 
Becoming a Franchisee with Meals of Hope
After you've decided to invest in a high-profit potential franchise with an amazing cause – solving the hunger crisis – getting started as a Meals of Hope operator is easy and streamlined. For starters, our initial training programs support you in every aspect of the business model, including how to attract and retain customers, how to run fun meal-packing events, how to market effectively in your community, and professional development to make sure you're meeting financial goals.
Once you've undergone our extensive and robust training and support program, you'll be more than ready to hit the ground in your community and start building a client base. But with Meals of Hope, you're never at it alone, as our leadership team is committed to being incredibly hands-on and with you every step of the way – from the moment you sign on as a franchisee to your grand opening and for the life of the franchise.
"We don't call our owners franchisees, we call them Packing Partners, because they are truly partners of Meals of Hope," Steve Popper, CEO of Meals of Hope, says. "They are a part of a family that's committed to doing whatever we can to help them grow and thrive. Nothing about our end is done with financial gain in mind. Even our franchise fee goes to support the food pantries that feed 1,000 people a week. The more successful our franchise owners are, the more people we all get to help together."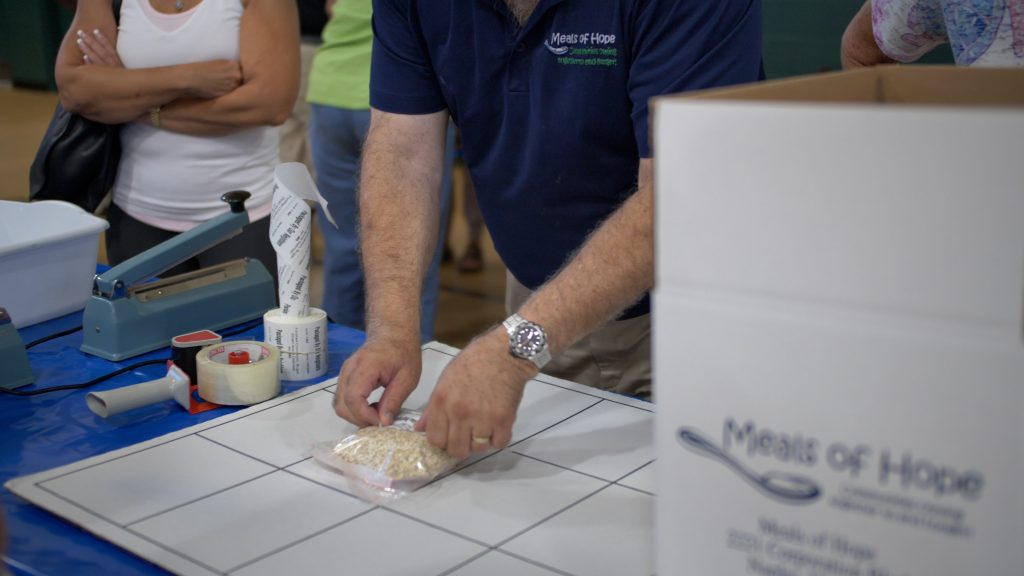 Building Relationships
As a Meals of Hope franchise owner, it's your job to build relationships with people and organizations in your territory interested in sponsoring meal-packing events. Think nonprofits, faith-based organizations, schools, colleges and universities, corporations, and houses of worship. That's done by being part of your community, networking in social and professional circles, and effective marketing. In essence, it's your role to let your community know Meals of Hope is there to help put on a meal-packing event that will help thousands of people suffering from food insecurity.
Time and again, Meals of Hope has found sponsors who want to keep coming back. There's simply no equal for an organization to host a meal-packing event, which brings together volunteers to work as a team for a common cause: fighting the hunger crisis. Once franchise owners build a loyal customer base, not only do they have a constant and reliable stream of revenue, but they are also freed up to invest more time and resources in attracting new clients.
"This is a business that's all about building relationships," Popper says. "Our franchise owners are going to be spending their time networking in their communities and forming relationships that are based on a shared commitment to give back. We've discovered that there's no shortage of organizations, charities, businesses, houses of worship, and colleges and universities who want to host an event. When they hear the impact that one event can have, it becomes a common sense decision to host it. The more events our franchise owners can organize, the more successful they become in business – and more importantly, the more people they're able to help."
How Franchisees Help Fundraise
Meals of Hope has kept its business model incredibly simple, which has resulted in continued growth. For the most part, franchise owners spend their time building relationships and finding sponsors for meal-packing events. Then, the sponsors supply the venue and organize the volunteers. The parent company of Meals of Hope supplies the ingredients for the event, and when all is said and done, the food is picked up by a local food bank to be distributed.
One of the main responsibilities for franchise owners during the meal-packing event itself is making sure everything runs smoothly, and above all, volunteers are having a great time. Our events are fun and high-energy, bringing together people of all ages to do good for others in need. When events make a meaningful impact on our volunteer's lives, the benefits for franchise owners are twofold: they are both more likely to host another event in the future and recommend Meals of Hope to friends, family and colleagues. That means more opportunities for meal-packing events in your community.
Help When You Need It
For the entire life of the franchise, the Meals of Hope corporate team and support staff are available 24/7, 365. Our franchise owners receive world-class ongoing support and training on all operational aspects of the business, including marketing, professional development and ongoing coaching. Put simply: if you're successful, we're successful, and we're entirely committed to providing franchise owners every possible means to reach their goals and thrive.
"Anytime you need to pick up that phone and call us, we're here," says Salima Gomez, Controller for Meals of Hope. "It's a proven business model. We have everything down to a science. We're completely efficient, and we've just been doing it for so long that we know exactly what we're doing."
Invest in Meals of Hope Today
If you're ready to learn more about a franchise opportunity that is both rewarding and profitable, visit our research pages here or fill out an inquiry form to start a conversation with us.