Invest In A Business Supporting Food Pantries
What is a Food Pantry?
In the U.S., more than 34 million people – including 9 million children – are food insecure, meaning they don't have access to nutritionally safe and healthy foods at any given time. In one of the greatest nations of the world, this is not acceptable, which is why so many organizations and nonprofits have banded together to fight hunger and food insecurity head on. One of the most effective and significant institutions is the food pantry. A food pantry is essentially a distribution center where people in need can receive food. According to a report in Feeding America, more than 21 million meals were provided to nearly 110,000 children last year as a result of the hard work of staff and volunteers at food pantries across the U.S. Food pantries take many shapes and forms. Some are in permanent locations, others can distribute mobily. But, at the end of the day, food pantries all accomplish the same mission: to provide a source of free, healthy and nutritious food.
"There is not a single community in the county without a family or individual facing hunger," according to a report in BuzzRx. "Many people do not qualify for federal nutrition programs and visit their local food banks or food pantries for extra support. This includes hardworking families, seniors, and veterans who cannot make ends meet or are forced to choose between household essentials like food or medicine. Families with children and single-parent households, particularly those headed by women, are two demographics that show the highest rates of food insecurity. In addition, the rates of food insecurity are much higher for African American, Latino, and Native American families because of systemic racial injustice."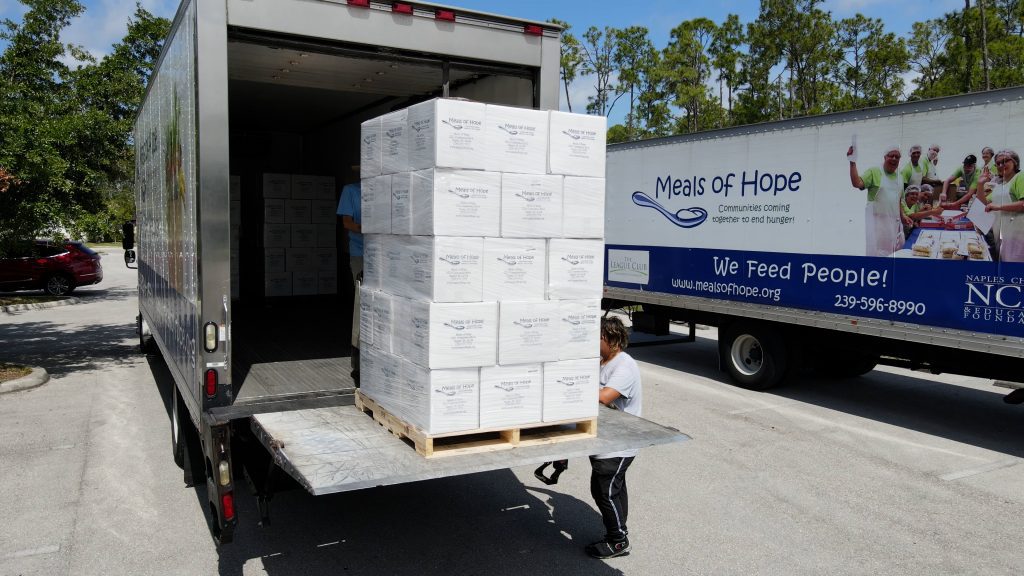 A Business Supporting Food Pantries
Meals of Hope is one of the most unique business models that is centered on supporting food pantries while helping to end the hunger and food insecurity crisis. Here's how it works: Meals of Hope helps encourage and motivate organizations – such as businesses, nonprofits, schools, churches, and more – to sponsor meal packing events. Then, volunteers from all walks of life gather to help pack meals for people in their community in need. Meals of Hope provides the food, and once everything's all packed, the meals are distributed to the local food bank to deliver to people suffering from hunger and food insecurity. Since 2012, Meals of Hope has helped pack more than 80 million meals and started 15 food pantries that feed more than 10,000 people (about 4,000 families) a week! What started as a nonprofit, Meals of Hope turned to the franchise system, realizing it would have a great ability to expand its reach across the U.S. to help as many communities as possible.
"We're looking for people who want to do good and make money, which is very different from making money and doing good," says Steve Popper, President and CEO of Meals of Hope. "We know this is a business, but if it's all about the money, this is not going to be a good fit. This is about service, giving back, and getting meals to people who desperately need them. This is far bigger than making money. But Meals of Hope has built a franchise structure, which allows our Packing Partners to do good while building a strong business and earning a good living."
Invest in a Meals of Hope Franchise
Unfortunately, the hunger crisis isn't going away anytime soon, and it's going to be up to people in communities across the U.S. to help ease the suffering of millions of Americans. Indeed, reports show the hunger crisis continues to worsen, especially since the COVID-19 pandemic. According to Feeding America, the number of people needing food assistance skyrocketed to 60 million in 2020, up 50% from the previous year. But, at the same time, American's desire to give back only increased. Increasingly, Americans are showing an inclination to volunteer their time to meaningful causes, with hunger and homelessness at the very top. In fact, industry studies show 15% of Americans support hunger and homeless causes, by far the largest segment in the volunteer category.
For aspiring entrepreneurs, it could not be a better time to invest in a Meals of Hope franchise. Switching from a nonprofit to a franchise system in 2012, Meals of Hope is uniquely positioned to expand its services across the U.S. in a major way, helping communities battle hunger while at the same time providing a lucrative, meaningful career. Meals of Hope offers one of the most straightforward business models out there – franchise owners find sponsors for meal-packing events, provide the food, and make sure events are fun and run smoothly. The earning potential is truly limitless, with franchise owners paid a percentage for every meal packed at events (some events can pack more than one million meals in just a few hours!). The cost of ownership, too, is another huge selling point for entrepreneurs looking to run their own business. Meals of Hope keeps costs low, with total investments ranging from $61,050 to $71,925. Not only does that cost include franchise fees and the Meals of Hope business model, it also gives franchise owners access to one of the most robust, comprehensive training and support platforms in the franchise world.
"Now is the time to invest in a Meals of Hope franchise," says Steve Popper, President and CEO of Meals of Hope. "And now, we decided that the best way to expand our ability to fight the hunger crisis is to franchise our model and expand across the country. We're so excited to be in a position to help entrepreneurs own businesses that have tremendous profit potential, while also making such a tremendous difference in people's lives."
Limited Territories
Indeed, if you are an aspiring entrepreneur who wants to make a great living while also giving back to your community, don't wait to explore the Meals of Hope franchise opportunity. To give our franchise owner the strongest growth potential and ability to forge relationships with potential sponsors in their community, our territories are large, protected and exclusive. As a result, we only have 64 territories available across the U.S., with each consisting of about four million people over large geographic areas. This ensures franchise owners have unlimited scalability and build a business with tremendous profit potential. All the while reaching our main goal – having the biggest impact possible on the hunger crisis.
"We only have 64 territories available, which means once they're gone, they're gone," says Jack Day, Director of Franchise Development. "This is an incredible opportunity for entrepreneurs who are ready to leverage their leadership skills, their relationship building skills, and desire to help make the place where they live more food secure. This is a vitally important issue, and we've proven that this business model can have an enormous impact. We're excited to partner with entrepreneurs who share our commitment to fighting the hunger crisis."
Learn More about Meals of Hope Franchise
Meals of Hope is a one-of-a-kind investment opportunity that provides franchise owners a business model that is both profitable and rewarding. To learn more, visit our research pages here or make a request for more information today.